What you can expect from us: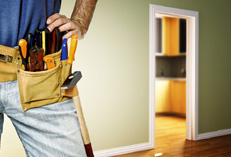 A Fair Price
In most cases our price is unmatched by our competitors. We always shop for the best prices, make sure the job is done right the first time, keep our overhead low, and create as little waste as possible.
Prompt Professional Service
Over the years we have developed many professional relationships with our customers. Whether you're a professional home builder or building / repairing / maintaining your own home, we make sure your home is done right.
High Quality Electrical Products and Expert Installation
We always buy and install products we would put into our own homes. We will never install second-rate products.
Fast, Clean, Neat, and Safe Service
Because we specialize in residential construction, you can expect us to meet any reasonable deadline, do the job better than those requirements outlined in the national electrical code, keep our work areas clean, and most importantly safe.
Expertly Planned Electrical System
We design every electrical system uniquely to each home. We wire to meet and exceed code requirements.